Seven(7) Best Phone Holder Stands You Must Consider When Buying
When you're choosing a phone stand, you'll need to keep a few things in mind in order to pick the best one for your needs. Here are the main features you'll want to look out for and consider when making your choice:
Compatibility: Compatibility will be the first thing you need to look at. Make sure that your selected phone holder stand is able to fit and support your phone.
Ergonomics: The whole point of having a cell phone holder is so you can easily look at your phone without having to hold it up yourself. Thus, it should have ergonomic design in mind. Make sure it has the ability to adjust heights, angles, and more according to your needs.
Placement: Are you planning on traveling with your phone holder? Do you want it to stay on your desk? Think about where you'll be keeping your phone holder and factor that into your decision.
How We Selected
In order to round up the best phone holder stands for you, we considered the various different reasons someone might need a phone stand and categorized them by use case. With this in mind, you can just scroll through and find the phone stand category that fits what you're wanting. Also, we've compared our choices to other reputable sources like GearLab, TechAdvisor, and more. Finally, we've made sure all of our products have at least four stars or more on Amazon, so you can trust you're getting a great stand. Check out our choices and find the right phone stand for you!
1Best Overall
Omoton Cell Phone Stand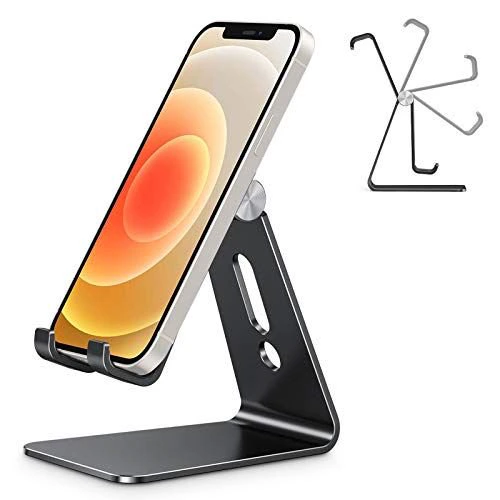 Compatible with phones from 4 to 10.2 inches
If you want a phone stand that checks just about every box, make it the Omoton Cell Phone Stand. This stand can hold just about any size phone, has a nice sturdy base, and has multiple viewing angles. You can also put your phone in portrait or landscape mode if you want.
The affordable price point and the multiple color options are the icing on the cake. This is a great stand if you're looking for a permanent addition to your desk workspace.
Multiple viewing angles
Multiple colors
Sturdy base
Not the most portable option
2.
Nulaxy Foldable Cell Phone Stand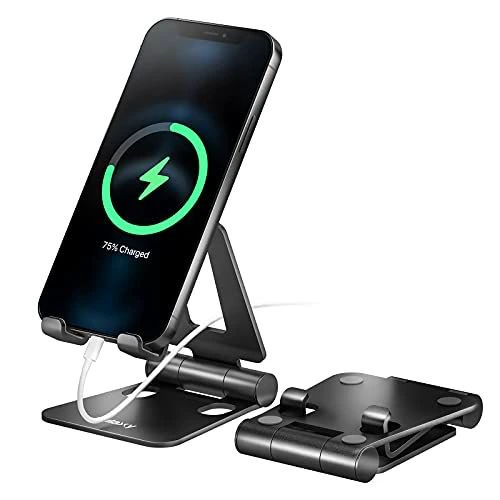 Compatible with phones from 4 to 10 inches
If you're always on the move, you'll need a phone stand that is lightweight and easy to move. The Nulaxy Foldable Cell Phone Stand is fully collapsible, making it easy for you to grab it and go. A nice sturdy base and the ability to change angles means you can adjust it to a comfortable viewing angle that works for you. There are even a few different color options that can match your style and work setup.
Easy to travel with and move
Easy to adjust angles
Multiple color options
Super affordable
Doesn't have the widest range of viewing angles
3Lowest Profile
PopSocket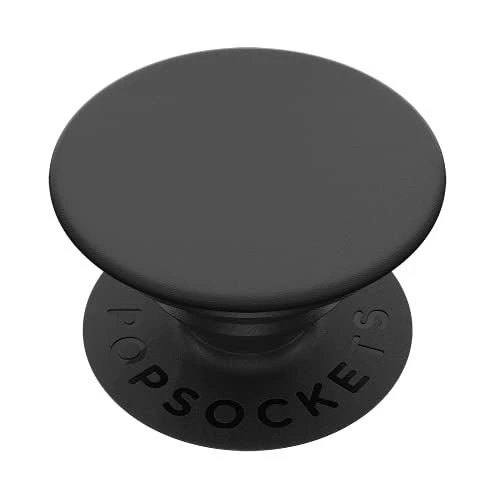 PopSockets amazon.com$9.97
Compatible with all phones
If you're wanting your phone to always have a phone stand readily available, then a PopSocket is your answer. PopSockets stick right to the back of your phone and can easily pop out and prop your phone up whenever you need it to. Once you're done, you can push it back in and fit it easily in your pocket, backpack, or bag.
It's also great for getting a better grip on your phone, especially if your phone is a larger size. Plus, you can count on it working for any phone.
Fits any phone
Can prop up your phone anywhere
Affordable
Doesn't have a sturdy base
Limited viewing angles
4.
Lamicall Gooseneck Phone Holder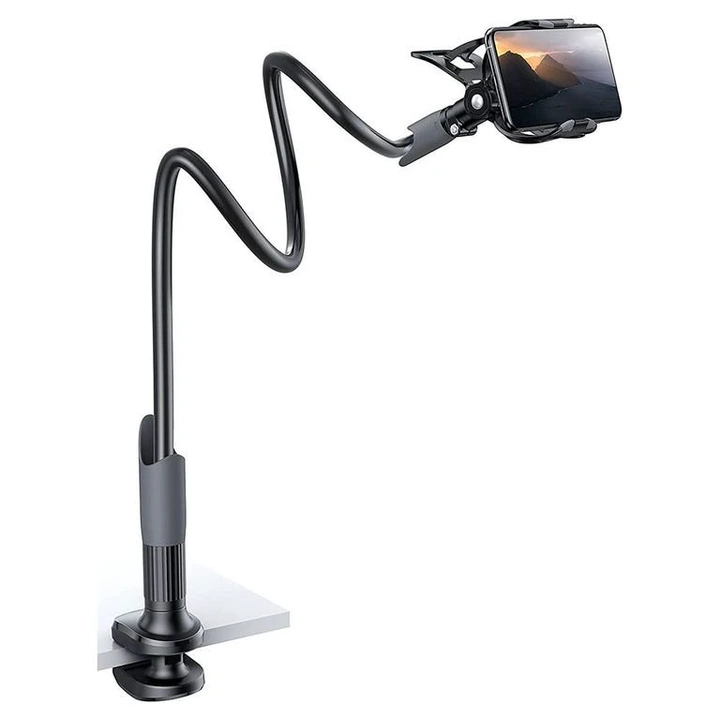 Lamicall amazon.com$25.99
Compatible with phones from 4 to 7 inches
If you're wanting a phone holder that can give you any and all viewing angles, the Lamicall Gooseneck Phone Holder is a great choice.
This gooseneck lets you bend and bow your phone to your will and it's plenty long, making it great for a wide variety of applications. The clamp is extra sturdy to grip onto your table, desk, or counter, and the neck itself is reinforced to hold up the weight of your phone easily.
Widest degree of viewing angles
Clamp lets you set it up just about anywhere
Isn't big enough for extra-large phones
5Best for Desk and Tabletops
Lisen Height Adjustable Phone Stand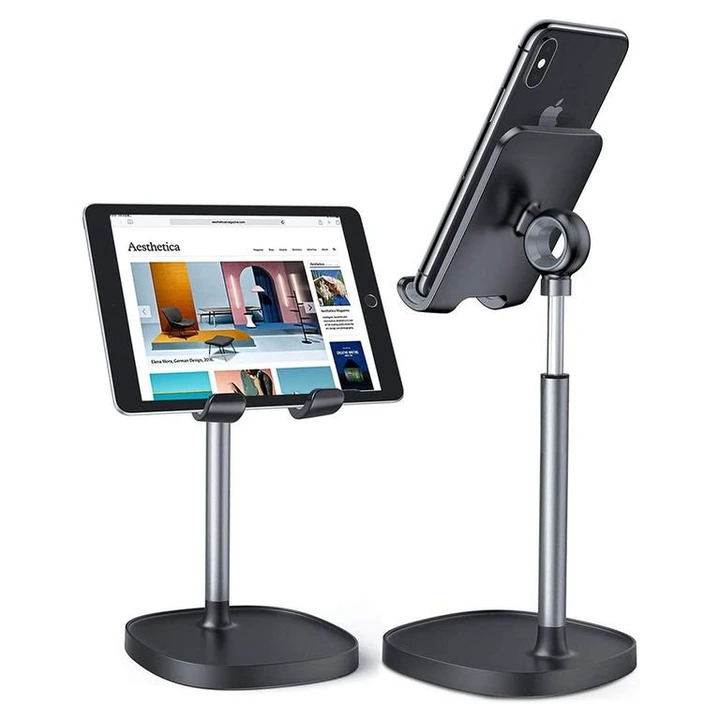 Compatible with phones from 4 to 10 inches
Sitting down all day is definitely not the best thing for your health. Sometimes it's good to stand up during the workday and stretch your legs.
If you work from a standing desk or tabletop, make sure you get the Lisen Height Adjustable Phone Stand. This stand allows you to raise your phone height up to 8.5 inches. There are also multiple angles of adjustability to prevent neck strain.
A sturdy base keeps your stand in place and even has room for you to store some small items.
Able to adjust height and angle
Big stable base
Not the most portable option
6.
Best for Video Conference and Recording
UBeesize Cell Phone Holder and Ring Light
UBeesize amazon.com$33.99
Compatible with almost all smartphones
Everyone knows good lighting is essential when you're in Zoom calls or if you're creating content on your phone. The UBeesize Cell Phone Holder and Ring Light combines great lighting and a phone holder in one versatile package.
The ring light comes with three lighting modes including warm, cool, and daylight settings. Each lighting mode also has 11 levels of brightness. The tripod base gives you tons of adjustability, letting you get low angles, high angles, and just about anything else you can imagine. It even comes with a Bluetooth remote to capture pictures and videos.
Lighting is built-in
Tons of adjustability
One of the pricier options
Have to carry a tripod around if you want to travel with it
7.
No-Frills Option
Ugreen Cell Phone Stand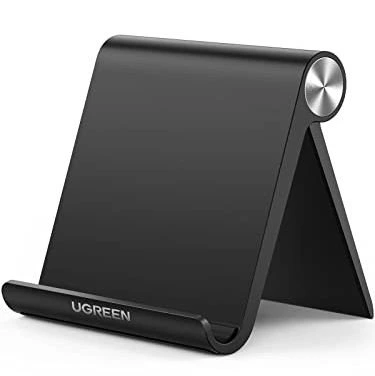 Compatible with phones from 4 to 7.9 inches
Sometimes you don't need a super fancy phone holder. Sometimes you just need something to set your phone on that lets you easily change the angle. The best no-frills option on our list is the Ugreen Cell Phone Stand. It doesn't do anything spectacular, but it doesn't do much wrong either. It's easy to set up, gives you multiple angles, and is the absolute cheapest option on our list. If you love simplicity, this is the one for you.
Simple and affordable
Multiple angles
Doesn't fit the larger size phones
No special features
Hard to plug your phone in when it's sitting vertically